The Peace Education Center is a community with the belief that all life has value. We work to promote compassion and awareness of the potential for interdependence and lasting peace, and nonviolent solutions to world, national, and local conflicts.
Current Happenings:
---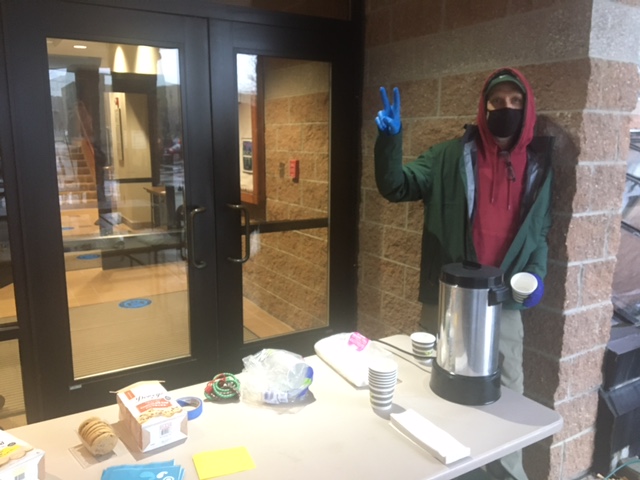 ---
---
THE PEACE EDUCATION CENTER'S STATEMENT OPPOSING PRESIDENT TRUMP'S RUSH BEFORE HE LEAVES OFFICE TO EXECUTE AS MANY FEDERAL PRISONERS AS POSSIBLE AND TO ALLOW CRUEL AND UNUSUAL FORMS OF EXECUTION OF INMATES ON DEATH ROW

The Peace Education Center of the Greater Lansing Area (PEC) urges all citizens of good will and elected officials to speak out against President Donald Trump's and Attorney General William Barr's sudden decision to execute federal inmates and to oppose their just announced proposed new methods of execution. In what seems like a vindictive parting shot at Joe Biden and death-penalty opponents, President Trump's Justice Department has announced that the federal government will execute five inmates before he leaves office on January 20th, representing a total of thirteen since July making this the worst spate of executions since 1927. In addition, the Justice Department has created new regulations allowing more cruel methods for federal executions — including by firing squad, electrocution and poison gas — instead of by previously court-approved lethal injection. These new methods appear to preclude challenges to executions when chemicals for lethal injection are not available. President Trump appears to be speeding up these executions before President-Elect Biden assumes office because he opposes the death penalty.

Over its fifty-year life, the Peace Education Center has worked to support human rights at home and abroad, and to support the peaceful resolution of personal, domestic and international conflicts. Like many groups concerned about human rights, the Peace Education Center opposes the death penalty as a form of punishment for people convicted of criminal offenses, whether in federal or state jurisdictions. While opposing capital punishment, the PEC recognizes that this punishment is lawful for some federal crimes and for certain crimes in some states. In this circumstance, the PEC believes that because of its finality, execution as punishment should not be carried out until prisoners have exhausted every legal avenue of appeal. Moreover, the Justice Department's rush to allow cruel and unusual methods of execution before President Trump's term ends seems like a vindictive legacy he seeks to leave for President-Elect Biden.
The Peace Education Center urges all opposed to the death penalty to make their opposition to these executions and to these new cruel methods of execution known to our elected officials.

Approved: Board of the Peace Education Center
Date: December 3, 2020
Click here to download the statement as a PDF file.
---
Fall 2020 Peace Notes has been published :
Black Lives Matter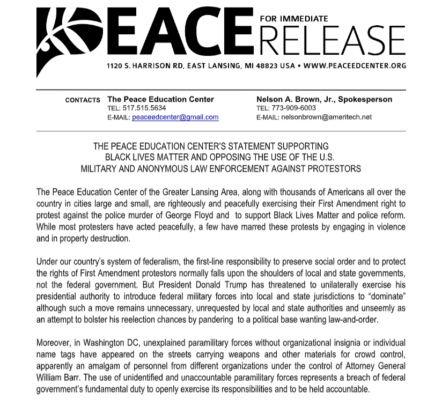 ---
The Peace Education Center is now accepting applications for the Tom Schneider Peacemaker Award. You can find criteria for applying here on our website.
Here's the updated 2020 application:
---
The Peace Education Center has released a statement on Landmine Use.
Read more about it by clicking the image below:
---
The Peace Education Center, as of January 7th, 2020, as published a statement of opposition to President Trump's escalation of the conflict with Iran. Read our latest blog post by clicking the image above.
---
On April 27th, the Peace Education Center held its Annual Meeting, in which we awarded several community members with Peace Awards.
Our 3 Tom Schneider Peace Maker Award winners from left to right Becky Schawrz (Tom Schneider's wife), Reilly Farr (Waverly Highschool), Eleanor Carr (East Lansing High School), Graham Diedrich(Haslett High School):
Peacemaker of the Year : Anna Fisher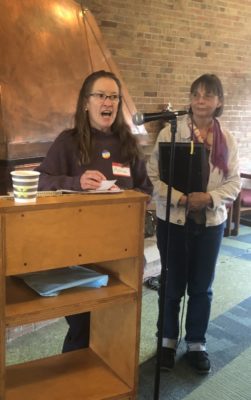 Peacemaker of the Year : Will Lawrence of the Sunrise Movement
-Will Lawrence was unable to attend the Annual Meeting due to organizing around the Sunrise Movement
Lifetime Peacemaker Award Winner Laura Sager: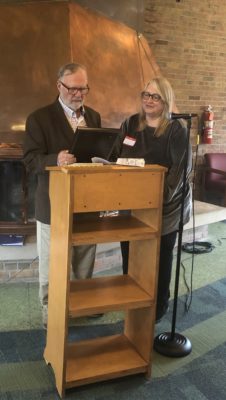 Lifetime Peacemaker Award Winner, our very own Board Member Terry Link:
---
Just before Christmas the Peace Education Center, with the generous contributions of local supporters, bought space on twelve local digital billboards around Lansing and in Fowlerville and Jackson to push back against militarism. The message and design was provided by World Beyond War , an organization trying to get more communities to use billboards in order to awaken the citizenry to the futility of war and endless military spending. The billboard seen below (near Frandor Mall in Lansing, MI) will be up until late January when we hope to follow-up with another design to encourage the viewers to act. We will continue these efforts as long as we can develop the funding to support it. If you want to support this effort to educate our community please send checks with the notation "billboard campaign" to Peace Education Center, 1120 S. Harrison, East Lansing, MI 48823. Help us raise awareness to alternatives to violence and war!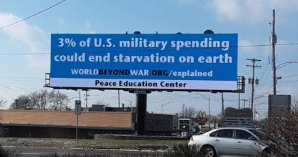 ---
We're turning 50! Read our latest
blog post
(below) to learn about how to contribute.
---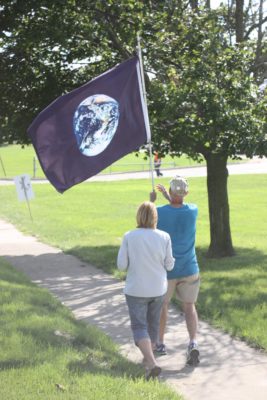 Contact us by emailing us at peaceedcenter@gmail.com