Alternative Holiday Sale – Support Our Vendors
The Peace Education Center has been hosting the Alternative Holiday Sale for over 10 years. This event provides an excellent opportunity to support the local economy, local business, and the Peace Education Center. 
Last year PEC was unable to hold the alternative sale and the associated fundraising opportunity it traditionally offered. But vendors who traditionally showcased their products deserved our support so we had setup a shop online to show them our support. 
(1) Matt Mulford
Mulford Arts & Peculiar Perspective Studio & Gallery
https://www.etsy.com/shop/mulfordarts
https://www.facebook.com/Mulford-Arts-192401060835949/

Mulford Arts offers a wide choice of gift options. Matt is known for his unique, personal, and expressive holiday cards and varied art in many mediums. He can be contacted through his Mulford Arts Facebook page. Items available to ship, or local delivery in the Lansing area.
(2) Amie Lucas
https://Amielucas.com
https://AmieLucasPhotography.com
https://instagram.com/amielucas/

Description: Photographs inspired by the beautiful state of Michigan. From roaring waterfalls to lush forests to the stunning Great Lakes.
Select your favorite photograph and have it printed on paper, metal or canvas. Additional sale items are available along with a limited stock 2021 Michigan calendar.
(3) Jessie Blume
Jessie Blume bags
www.jessieblume.etsy.com

I make genuine leather crossbody bags. They make great gifts!
(4) Sarah Evans
downeytreeart.com

Downy Tree Art is owned by Lansing artist, Sarah Surface-Evans. She is an illustrator who creates art featuring environmental and social commentary themes. She is also a sewist and designs her own fabric. Shop downytreeart.com for original artwork, limited edition prints, embroidery patterns, designer fabric bags, and more!
(5) Aspen & Tim
Turtle Creek Artisans
www.turtlecreekartisans.com

Tim will have water color note cards, and Aspen will have gemstone necklaces including some with peace symbol pendants.
(6) Petra Daher
Petra Daher Productions
All sales help support the production of the Great Lakes Water Warrior Documentary film series.
https://www.petradaher.com/store/c1/Featured_Products.html
Featured Products
Petra Productions Webstore – Gift Certificates for photo sessions, greeting cards, and fine art photography.

Search for Petra Daher to find her products: Petra is offering canvas wraps and metallic photo prints with a mat including free delivery in the Lansing area at the WITA marketplace. All of the items listed are in stock and ready to go! Over 30 women are participating.

Women in the Arts Festival Artist Marketplace Facebook Group

This group is the official online Artist Marketplace for the Women in the Arts Festival. Featuring women-made creations, including paintings, illustrations, photography, jewelry, textiles, sculpture, pottery, glassware, books, and music, the Festival aims to create a space for women to showcase their talents and sell their work.
(7) Cynthia Carter
Udderly Simple
www.facebook.com/udderlysimple

I'm Cindy Carter from Udderly Simple. Although I don't have a website as of yet, Udderly Simple is on Facebook and I do have soaps and lotions available for purchase. I'm located in Bath and could either safely meet up or ship to customers. Thank you.
The following is an archive information of past Alternative Holiday Sales.
The Alternative Holiday Sale starts Friday, November 15, from 5 p.m. to 9 p.m. and continues Saturday, November 16, from 9 a.m. to 5 p.m. The sale will be held again at Edgewood United Church, 469 Hagadorn Road in East Lansing.
2019 Vendor List:
To be announced soon!
Vendors : Click the image below for a copy of the Vendor Sign-Up sheet!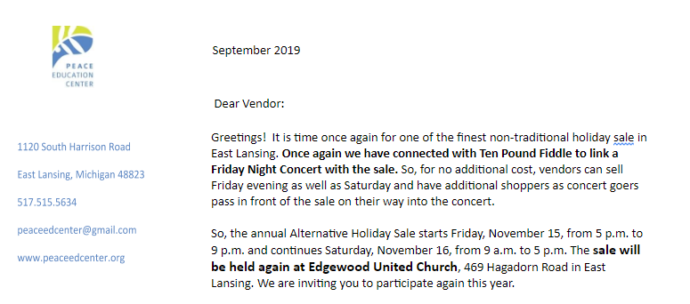 Please snail mail the form to the Peace Education Center or email it to peaceedcenter@gmail.com
2018's Alternative Holiday sale poster:
2017's Alternative Holiday Sale poster: