The Peace Education Center has been hosting the Alternative Holiday Sale for over 10 years. This event provides an excellent opportunity to support the local economy, local business, and the Peace Education Center. It is, in fact, the largest fundraiser that the PEC puts on; funding much of our programming throughout the year.
The Alternative Holiday Sale starts Friday, November 15, from 5 p.m. to 9 p.m. and continues Saturday, November 16, from 9 a.m. to 5 p.m. The sale will be held again at Edgewood United Church, 469 Hagadorn Road in East Lansing.
2019 Vendor List:
To be announced soon!
Vendors : Click the image below for a copy of the Vendor Sign-Up sheet!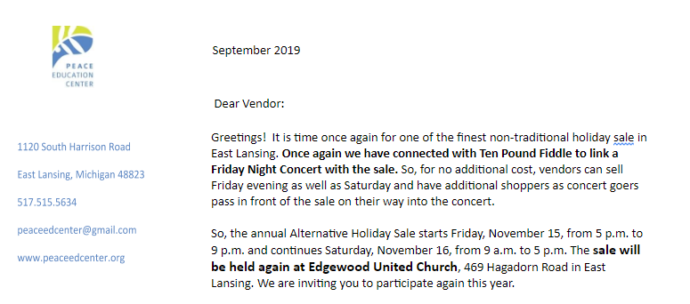 Please snail mail the form to the Peace Education Center or email it to peaceedcenter@gmail.com
2018's Alternative Holiday sale poster:
2017's Alternative Holiday Sale poster: